We offer Nail Care, Skin Care, Massage & Bodywork, and more! Our experienced staff will help you determine the best services for your needs and deliver the kind of quality and value you expect from a professional day spa . Our location is designed to make your experience enjoyable and leave you feeling inspired! Check out our complete service menu below to get a feel for what we do.
Please note: Service prices and availability are subject to change without notice. We also do not do acrylic nails therefor we do not have the tools or solutions to remove them, so if you are getting a manicure or a pedicure please remove them before your service, however we can remove shellac nail polish at an extra charge! Thank you!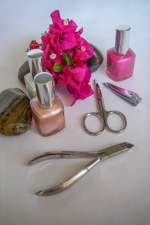 Pedicure
$45

Add on:
Paraffin $15
French $5
Collagen Treatment $ 10

Enjoy your relaxing pedicure with a foot soak in our whirlpool foot bath followed by a foot salt scrub that is infused with different Essential Oils that smell absolutely amazing, cuticle and callus care , foot and leg massage and to finish off your experience, a polish change.

If you have acrylic nails please remove them before your service, we do not remove acrylic nails. However, we can remove shellac nail polish. Thank you!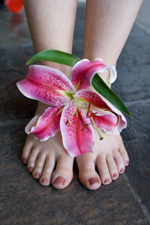 Cuticle care, callus removal, nail care, foot scrub, hot stone massage, and nail polish change!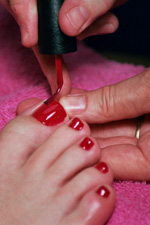 Our new basic pedicure consists of a foot soak, nail cut, filing, nail polish change and foot massage.
Return to Top
Policy:
If you need to cancel an appointment we appreciate at least 24 hours notice.

Anyone 18 years of age and under is required to have an adult accompany them.
We have the right to refuse service to anyone.
Prices are subject to change without notice.