We occasionally hold special promotions and offer discounts or special programs to give back to ours valued customers. Check back and visit this page from time to time to see current special offers which you can take advantage of when you visit us. If you want to be the first to know when new programs and deals are offered, please
sign our guestbook
to receive our e-newsletter.
Visit our full service Day Spa and take advantage of all we have to offer.
Please let us know if you are pregnant as some services should be avoided if you are under 12 weeks along or will need a prenatal therapist
.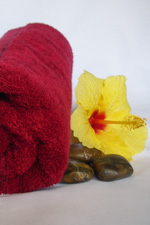 Couples Experience
30 minute Refreshing facial
Cucumber eye treatment
90 minute relaxation massage
Aromatherapy
Foot Exfoliation
Foot Mask
Back Exfoliation
Detox wrap for back

2 hours $340 per couple

Add on Hot Shell Massage $15 per person for full body
Add hot stones for back for $10 per person


Add on Collagen Treatment for hands or feet $10 each ( hands or feet )
Collagen natural protein that provides intense hydration , restores moisture for smoother and softer skin.